The latest roll call information from the Bryan Police Department
---
Local Events
Operation Street Smart
Friday October 10, 2014
New Era Auditorium
520 West Mulberry Street
Bryan Ohio

See below for details

Halloween Events
All activities will be held on Saturday, November 1st.


Ice Rink 3:00 p.m. - 5:00 p.m.
Trick or Treat 6:00 p.m. - 7:30 p.m.
Mattie Marsh Park 6:00 p.m. - 8:00 p.m.
Members of the Bryan Police Department held a luncheon on Friday September 12 to honor Chief Jeff Arnold on his last day of work.

Jeff started with the police department on September 1, 1980. He started as a patrolman and was then assign...ed to the drug unit. After the drug unit he was assigned to detectives office and was promoted to the sergeant of the detective division prior to becoming Chief Of Police on April 5 2005.

We would like to thank Jeff for his service and wish him the best in retirement
---
On Friday October 10, 2014 you're invited to attend Operation Street Smart at the New Era Auditorium, 520 West Mulberry Street Bryan, Ohio.
This program is designed to educate parents, teachers, social workers, community partners, and anyone with a nexus to children about current drug trends, terminology, and paraphernalia.
Two programs will be conducted. The times are 9:30 a.m. till 11:30 a.m. and 12:30 p.m. till 2:30 p.m.
If you have any questions please contact Kylee Uran at 419-636-4795 or e-mail her at kuran@cityofbryan.com
---
School Bus Safety

The Bryan Police Department is reminding drivers to be alert for stopped school buses that will be back on the road on Wednesday August 20.

Extra patience and attention will help make a safer school year for children.

Drivers should stop at least 10 feet back when approaching a school bus from either side, while it displays flashing lights and an extended arm.

They also ask drivers not to resume driving until the bus begins moving.

Drivers are urged to exercise patience and never pass a stopped school bus.

AAA offers six ways to keep kids safe this school year:

Slow down. Speed limits in school zones are reduced for a reason. A pedestrian struck by a vehicle traveling at 25 mph is nearly two-thirds less likely to be killed compared to a pedestrian struck by a vehicle traveling just 10 mph faster.

Eliminate distractions. Children often cross the road unexpectedly and may emerge suddenly between two parked cars. Research shows that taking your eyes off the road for just two seconds doubles your chances of crashing.

Reverse responsibly. Every vehicle has blind spots. Check for children on the sidewalk, driveway and around your vehicle before slowly backing up. Teach your children to never play in, under or around vehicles—even those that are parked.

Talk to your teen. Car crashes are the leading cause of death for teens in the United States, and more than one in four fatal crashes involving teen drivers occur during the after-school hours of 3 to 7 p.m. Get evidence-based guidance and tips at TeenDriving.AAA.com.

Come to a complete stop. Research shows that more than one third of drivers roll through stop signs in school zones or neighborhoods. Always come to a complete stop, checking carefully for children on sidewalks and in crosswalks before proceeding.

Watch for bicycles. Children on bikes are often inexperienced, unsteady and unpredictable. Slow down and allow at least three feet of passing distance between your vehicle and the bicycle. If your child rides a bicycle to school, require that they wear a properly-fitted bicycle helmet on every ride. Find videos, expert advice and safety tips at ShareTheRoad.AAA.com.
---
Pictures from the past.
Taken in the 1990's. Shows the various uniforms of Bryan PD.

L to R M Arnold, J Ridgway, S Grimes, R Poncsak, J Arnold

Practicing switching from revolvers to automatics
---
| | | |
| --- | --- | --- |
| | Look..... Listen.....Live | |
Operation Lifesaver's Top Five Safety Tips for Pedestrians
Cross tracks ONLY at designated pedestrian or roadway crossings; never walk along train tracks OR use them for a shortcut.

Railroad tracks, trestles, yards and equipment are private property and trespassers are subject to arrest and fine.

It can take a mile or more to stop a train, so a locomotive engineer who suddenly sees someone on the tracks will likely be unable to stop in time.

Do not hunt, fish or bungee jump from railroad trestles. There is only enough clearance on the tracks for a train to pass.

Be aware trains do not follow set schedules. Always expect a train on any track at any time.
---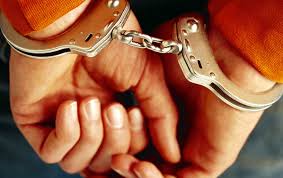 Police: Man drags stolen safe behind car, arrested after passing officer
An Onslow County man is accused of breaking into a pharmacy, stealing a safe, and dragging it behind his car.
He was arrested after passing a police officer.
---
---
2013 Traffic Crashes for the City Of Bryan

| | | | | | | | | | | | |
| --- | --- | --- | --- | --- | --- | --- | --- | --- | --- | --- | --- |
| January | February | March | April | May | June | July | August | September | October | November | December |
| 27 | 20 | 24 | 24 | 21 | 22 | 32 | 26 | 25 | 27 | 27 | 33 |
| 27 | 47 | 71 | 95 | 116 | 138 | 170 | 196 | 221 | 248 | 275 | 308 |
2014 Traffic Crashes for the City of Bryan
Updated 09-07-14
| | | | | | | | | | | | |
| --- | --- | --- | --- | --- | --- | --- | --- | --- | --- | --- | --- |
| January | February | March | April | May | June | July | August | September | October | November | December |
| 25 | 35 | 28 | 28 | 30 | 24 | 26 | 23 | 2 | | | |
| 25 | 60 | 88 | 116 | 146 | 170 | 196 | 219 | | | | |
---