The latest roll call information from the Bryan Police Department
---
Local Events
Click It or Ticket National Traffic Safety Campaign
May 23 through June 6

Bryan Jubilee


June 14, 2016

- June 18, 2016


On the square

Bryan Jubilee Parade
June 18, 2016


5:30 PM

- 7:00 PM EDT


High Street from Portland to Toy

Fireworks
June 25, 2016
Dusk
Bryan Recreation Park
---
---
April Is Distracted Driving Awareness Month
Did you know that when you send or receive a text you take your eyes off the road for 5 seconds? At 55 mph, that's like driving the length of an entire football field, blindfolded.
4/4
---
Williams County Drug Forum 2016
---
IRS Tax Scams
IRS Impersonation Scam Reporting link.
---
| | | |
| --- | --- | --- |
| | Look..... Listen.....Live | |
About every 3 hours, a person or vehicle is hit by a train.
Operation Lifesaver is working to change people's behavior around railroad tracks and crossings with the national public awareness campaign, See Tracks? Think Train!
4/4
---
SURREY, England, April 3 (UPI) -- A group of young people paused their Easter egg hunt to form a human arrow pointing a police helicopter toward a robbery suspect hiding nearby.
The group of 6- to 12-year-olds formed the giant human arrow to point out to the National Police Air Service helicopter where the man was hiding in Surrey, news.com.au reported.
As police scoured area fields for two fleeing suspects, the officers spotted the group of eight children who were lying flat on the ground in the form of a giant arrow, The Evening Standard reported.
The helicopter cameraman quickly realized what the youngsters were up to and panned his shot over to where the tip of the arrow was pointing and there was their suspect.
The NPAS posted a YouTube video that showed what the helicopter crew had filmed during the incident when the suspect was located, then captured, an eggciting ending for the kids performing a good deed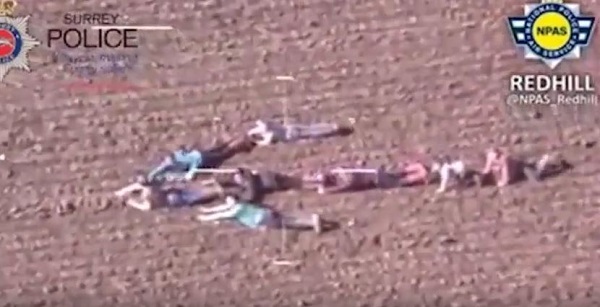 4/4
---
---
2016 Traffic crashes for the City of Bryan
Updated April 19, 2016
| | | | | | | | | | | | |
| --- | --- | --- | --- | --- | --- | --- | --- | --- | --- | --- | --- |
| January | February | March | April | May | June | July | August | September | October | November | December |
| 21 | 17 | 26 | 18 | | | | | | | | |
| 21 | 38 | 64 | | | | | | | | | |
2015 Traffic crashes for the City Of Bryan
| | | | | | | | | | | | |
| --- | --- | --- | --- | --- | --- | --- | --- | --- | --- | --- | --- |
| January | February | March | April | May | June | July | August | September | October | November | December |
| 24 | 25 | 19 | 27 | 27 | 24 | 29 | 28 | 28 | 27 | 25 | 30 |
| 24 | 49 | 68 | 95 | 122 | 146 | 175 | 203 | 231 | 258 | 283 | 313 |
---