The latest roll call information from the Bryan Police Department
---
Local Events
Free Healthy Meals
For children 1-18
Available June 9 through August 14, Monday through Friday, excluding July 4.
Pre-registration is not required.

Meals will be served at Mattie Marsh Park, 410 East Trevitt Street.

Lunch is served between 11:30 and 12:30 with fun activities scheduled between 12:00 and 12:45.
| | | |
| --- | --- | --- |
| | K-9 Vest Donated To Sage | |
The Bryan Police K9 Sage has received a ballistic vest thanks to a non profit organization, Vested Interest in K9s, Inc. $16,595.00 was donated to the charity from the "K9 Kota Campaign" which will provide vests for seventeen K9s in KY, OH, NJ, CA and IN.
The "K9 Kota Campaign" held an online event selling over 1350 tee shirts for the cause.
K9 Kota is a law enforcement dog with the Winchester Police Department in VA who sustained a work related injury on January 3, 2014. He fell through an attic floor onto a hardwood floor while detaining a suspect. Although the injury was severe to his right front arm, Kota climbed back up the flight of stairs to continue the fight. After months of surgery and physical therapy his return to police work is still unknown.
Vested Interest in K9s, Inc. is a 501c (3) charity located in East Taunton, MA. Whose mission is to provide bullet and stab protective vests and other assistance to dogs of law enforcement and related agencies throughout the United States. Each vest costs $950.00 and has a 5 year warranty. The nonprofit was established in 2009 to assist law enforcement agencies with this potentially life saving body armor for their four legged K9 Officers. Through private and corporate sponsorships, Vested Interest in K9s, Inc. provided over 930 law enforcement dogs in 39 states with protective vests since 2009 at a cost of $880,000.
The organization orders the U.S. made vests exclusively from distributor Regency Police Supply in Hyannis, MA. who also does the custom embroidery on the body armor. Vests are manufacturer by Armor Express in Central Lake, MI.
New K9 graduates as well as K9's with expired vests are eligible to participate. The program is open to law enforcement dogs who are US employed, certified and at least 19 months of age.
Vested Interest in K9s, Inc. was named as a charity partner in March of 2014 in a nation wide Groupon Campaign which raised over $335,000 in 19 days. The non profit will be providing over 350 law enforcement dogs nationwide with the protective body armor in memory of K9 Rocco of the Pittsburgh Police Department who sacrificed his life in the line of duty in January of 2014. All vests will be embroidered with the sentiment, "In Memory of K9 Rocco, Pittsburgh Police Department".
For more information or to learn about volunteer opportunities, please call 508-824-6978. Tax deductible donations accepted via mail to: Vested Interest in K9s, Inc. P.O. Box 9 East Taunton, MA 02718 or via the website: www.vik9s.org.
---
This scam is now in the Bryan Area

It's a scam spreading across the country -- a person calls your home, says he or she is a police officer and you have a warrant out for your arrest for unpaid parking tickets. The caller said they were from an out of the area police department.

The caller then explains that you can pay the "fine" with a credit or debit card. In some cases, the caller may tell y...ou to buy a certain debit card or send the money via Western Union.

This scam has been reported in Ohio, Colorado, New Jersey, South Carolina, Pennsylvania, New York, Oregon and other states.

Anyone who receives a call about a bench warrant for his or her arrest can call the court in the county that the warrant is supposed to have been issued and ask to verify the legitimacy of this claim.

Experts also recommend that you talk to the senior citizens in your life and remind them to never give out personal information such as credit or debit card information, bank account information or birth dates and social security card numbers over the phone or email.
---
Bryan Police Warns About The Dangers Of Heatstroke
Heatstroke is the number one killer of children, outside of car crashes. That's why Bryan Police has joined with the National Highway Traffic Safety Administration (NHTSA) to attempt to reduce these deaths by reminding parents and caregivers about the dangers of heatstroke and leaving children in hot cars. Last year 44 children lost their lives nationwide.
"As outside temperatures rise, the risks of children dying from being left alone inside a hot vehicle also rises," said Matt Arnold.
"One child dies from heatstroke nearly every 10 days from being left in a hot vehicle, but what is most tragic is that the majority of these deaths could have been prevented."
Bryan Police urges all parents and caregivers to do these three things:
1) NEVER leave a child in a vehicle unattended;
2) Make it a habit to look in the backseat EVERY time you exit the car;
3) ALWAYS lock the car and put the keys out of reach. And, if you ever see a child left alone in a hot vehicle, call 911 right away.
Know the warning signs of heatstroke, which include: red, hot, and moist or dry skin; no sweating; a strong rapid pulse or a slow weak pulse; nausea; confusion; or acting strangely. If a child exhibits any of these signs after being in a hot vehicle, cool the child rapidly by spraying them with cool water or with a garden hose, NEVER an ice bath. Call 911 or your local emergency number immediately.
Children's body temperatures can rise up to five times faster than that of an adult, and heatstroke can occur in temperatures as low as 57 degrees. On an 80-degree day, a car can reach deadly levels in just 10 minutes.
More than half of all vehicle-related heatstroke deaths in children are caused by a child accidentally being left in the car, and 29 percent are from a child getting into a hot car on their own.
"We want to get the word out to parents and caregivers, please look before you lock."
---
| | | |
| --- | --- | --- |
| | Look..... Listen.....Live | |
Trains and cars don't mix. Never race a train to the crossing — even if you tie, you lose.The train you see is closer and faster-moving than you think. If you see a train approaching, wait for it to go by before you proceed across the tracks.
Be aware that trains cannot stop quickly. Even if the locomotive engineer sees you, a freight train moving at 55 miles per hour can take a mile or more to stop once the emergency brakes are applied. That's 18 football fields!
Never drive around lowered gates — it's illegal and deadly. If you suspect a signal is malfunctioning, call the 1-800 number posted on or near the crossing signal or your local law enforcement agency.
Do not get trapped on the tracks; proceed through a highway-rail grade crossing only if you are sure you can completely clear the crossing without stopping. Remember, the train is three feet wider than the tracks on both sides.
If your vehicle ever stalls on a track with a train coming, get out immediately and move quickly away from the tracks in the direction from which the train is coming. If you run in the same direction the train is traveling, when the train hits your car you could be injured by flying debris. Call your local law enforcement agency for assistance.
At a multiple track crossing waiting for a train to pass, watch out for a second train on the other tracks, approaching from either direction.
When you need to cross train tracks, go to a designated crossing, look both ways, and cross the tracks quickly, without stopping. Remember it isn't safe to stop closer than 15 feet from a rail.
ALWAYS EXPECT A TRAIN! Freight trains do not follow set schedules.
---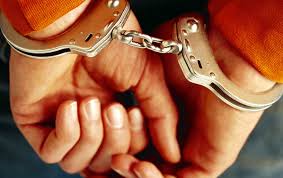 WESTFIELD, Mass. (AP) — Police in Massachusetts have arrested a man they say stole a pack of cigarettes because he wanted to go back to jail.
Officers responded to a convenience store in Westfield on Tuesday night where a clerk told them a man asked for the cigarettes, and then walked out without paying.
The Westfield News reports that when the clerk warned the man he would call police unless he paid, the suspect said "Go ahead."
Police found 40-year-old John Skowron Kirwan, of Springfield, at a nearby bus stop.
When an officer asked the suspect if he attempted to steal the cigarettes, the man replied: "I didn't attempt to steal them. I stole them."
Police say Kirwan told them he was on probation and wanted to go back to jail. He was arrested for shoplifting
Information from: The Westfield (Mass.) News, http://thewestfieldnews.com
---
---
2013 Traffic Crashes for the City Of Bryan

| | | | | | | | | | | | |
| --- | --- | --- | --- | --- | --- | --- | --- | --- | --- | --- | --- |
| January | February | March | April | May | June | July | August | September | October | November | December |
| 27 | 20 | 24 | 24 | 21 | 22 | 32 | 26 | 25 | 27 | 27 | 33 |
| 27 | 47 | 71 | 95 | 116 | 138 | 170 | 196 | 221 | 248 | 275 | 308 |
2014 Traffic Crashes for the City of Bryan
Updated 07-26-14
| | | | | | | | | | | | |
| --- | --- | --- | --- | --- | --- | --- | --- | --- | --- | --- | --- |
| January | February | March | April | May | June | July | August | September | October | November | December |
| 25 | 35 | 28 | 28 | 30 | 24 | 21 | | | | | |
| 25 | 60 | 88 | 116 | 146 | 170 | | | | | | |
---